i am so excited to be co-hosting the open letters link-up with
Julie
this month! Julie created this link-up
last month
and i am so in love with it! writing random letters is a super fun way to journal & i used to do this all the time when i was younger... so it is bringing back memories of my old journaling days! :) don't forget to link up your open letters post at the bottom!
______________________________________________________________________



dear Olive Garden unlimited zuppa tuscana,

you are a tricky little thing pretending to be light with your kale, but then you are loaded with potatoes. the reality is that my stomach pays when i try to "get my money's worth." don't get me wrong, you are super delicious and it's really hard to regret a thing. but when i get that extra bowl "because it's unlimited" and my stomach feels like it's going to pop when i leave the restaurant, something has got to give. i don't want my tombstone to read "spontaneous soup combustion," but then again, you are just so tempting!
dear group emails at work,
you are sometimes entertaining, but also sometimes just annoying. when an email is sent to the entire company, there is really no need to reply-all with your witty remark. because when you do it, then other people feel the need to do it as well. and i don't need an inbox full of witty remarks back to an email that didn't affect me in the first place. however, when it is a smaller group of people arguing back and forth, it is pretty entertaining to read. i mean, if everyone was on these group emails no one would need to watch soap operas! there is enough drama & over reaction to go around! but it is funny to read as long as i don't get dragged into the conversation, so keep the funny ones coming!
dear our first home,
i will always
remember
you. you were the place where i came to see Thomas's roommate and started hanging out with Thomas. you were the place where Thomas cooked for me the first time. you were the place where i first told Thomas that i love him. you were the place where we spent our first 3 years of marriage, to the day. i have seen you go from looking like a guy's dorm, to changing into a married couple's first home. i've watched you transform from a house to a home, and it has been so neat! i'm so glad we have pictures along the way & we can see how far you've come! even though we are excited about
our next adventure
, we will definitely always miss you! thanks for the
memories
!
p.s.
you know what the cool thing about making a home is? once you build it, it goes with you no matter what house you live in. so in a way, you'll always be with us! :)
______________________________________________________________________
the whole point of this link-up is to form community and meet some new bloggers, so don't drop your link and run! unrelated posts and posts that don't follow the guidelines will be removed. interested in co-hosting? send an email to
ahopefulhood@gmail.com.
rules:
1. add a link to any post in the form of a letter!
2. comment on the post right before yours!
3. link back to your hosts
Julie
and
Robyn
!
(you can grab this button as an open invitation for others to join in!)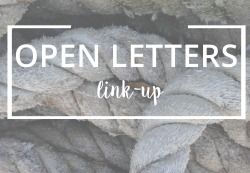 link up your own open letters post below!